By Jeanne Cordua
You find cup marks on rocks almost everywhere in the Bornholm landscape and some are quite impressive. The cup marks may have had all sorts of purposes; but usually they are interpreted as fertility symbols, and on Swedish stone carvings you may often see cup marks between the legs of male or female figures. A good link to the stone carvings of Bohuslän et al. The may also have been in use as offering holes for small offerings – on my other pages about stone carvings (see menu on the left) you can also read about likenesses with constellations etc. Finally, large and poignant stones in the landscape may be interpreted as a kind of border markings between two clans, especially when seen on standing stones.
Please click the pictures for larger versions!
---
Almegård, Knudsker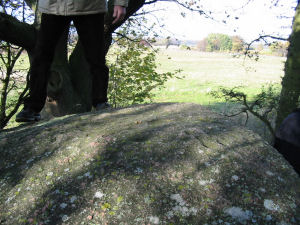 Large rock with many deep cup marks.
Coordinates: 55.07.19 N 14.43.38 E
(invisible on Google Maps)
---
Grødby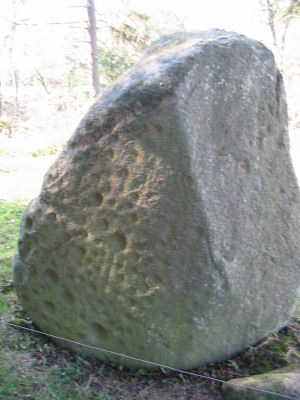 Large standing rock with many deep cup marks, arranged in groups.
Coordinates: 55.02.11 N 14.56.29 E
(invisible on Google Maps)
---
Lille Strandbygård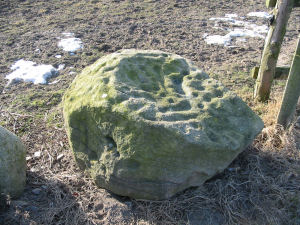 Beside the stone carvings field, mentioned on my other pages, e.g. under measurementes. This loose block may have stood somewhere else in the past.
Coordinates: 55.03.24 N 14.47.59 E.
---
Finally, in two places on the island we find a socalled "Devil's bowling alley" – one by Nexø (see link) and one in Åkirkeby. These rocks have been known well also in the past, and at several occasions when I have visited these rocks, coins have been laid in the cup marks! The old traditions do not die out easily!
My own picture of The Devil's Bowling Alley in Åkirkeby, the cup marks are drawn up with yellow.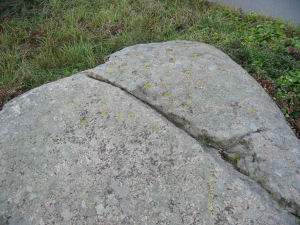 Coordinates: 55.04.01 N 14.54.42 E
(visible in garden on Google Maps)
---
The Devil's Hat, Bodilsker church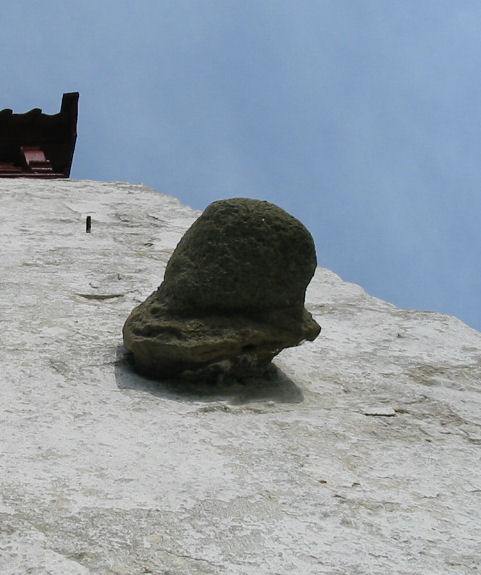 (Please see also my page about heads on the churches on the left)- on this closeup you can glimpse the cup marks. Paganism continues…
---
Nyker round church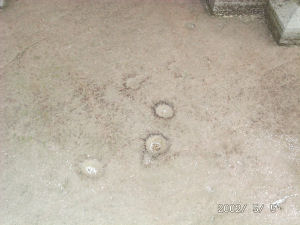 Stepping stone to the women's door, the church has been built upon the rock. Thought-provoking, that the women had to step on the rock – to secure fertility…